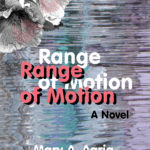 Starting with a kickoff in Stevens Point, WI in June, author Agria is moving ahead through a busy tour schedule through early October.  NEW THIS YEAR:  a two-day event in Petoskey with Book Club members from Stevens Point, WI.  Author Agria will lead tours of Little Traverse Bay landmarks that inspired her novels—including a tour of the gardens that inspired her best-selling TIME IN A GARDEN.  Also included are stops at famous Hemingway haunts, an author whose clean, straight-forward prose inspired her own work.    ALSO NEW: the author received an email from the state of Michigan NOTABLE BOOKS program with a request to review her RANGE OF MOTION for their 2019 awards intended to recognize the fiction and non-fiction work of Michigan authors. "An exciting prospect," the author says. "And a total surprise, both humbling and affirming after 13 years writing about an area my family and I so deeply love."
RANGE OF MOTION is the emotional, physical and spiritual journey of long-time Northern Michigan cottager and avid gardener, Maggie Aron as she struggles to confront the 'sciatica of the soul' that can rob life of its vitality and meaning.  "Plants root themselves. Except life doesn't end there. They grow toward one another. sharing space, building the community we call a garden. Plants stretch upward toward the sun. They dance on the wind. We can learn a lot from plants."  Set along the shores of Little Traverse Bay, the novel is a love song to gardening and the unique cottage culture of Northern Michigan. 
Program organizers for book and garden clubs, church groups, senior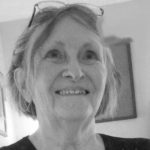 centers, libraries and other venues are encouraged to contact the Agrias to schedule events in their communities. It is also never too late to book an author chat or signing, including online author talks.  Contact the author via her email agriainc@msn.com —Phone and Skype chats are also a fun way to bring the author to your next book club. For upcoming programs or an author visit near you, click on the Events button.
CRITICAL ACCLAIM: Book Critic Joan Baum with the prestigious Dan's Hampton's magazine writes of Agria's novels: "an intelligent, well-written and sharply observed portrayal of the human experience." Says Matthew Daddona, northforkpatch.com, "Inspired language. . .beautiful characters as remarkable and truthful as her setting."