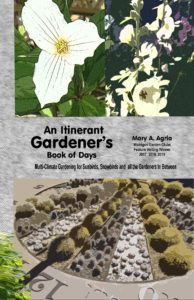 Inspired by Harbor Springs naturalist and newspaper columnist Alice C. Erwin's Book of Days, Nature Talks [1939], Mary Agria's AN ITINERANT GARDENER'S BOOK OF DAYS tracks a year in the gardening life of author Agria as she divides her time between the desert Southwest and the shores of Northern Michigan's Little Traverse Bay. From gardening in the year of Covid to Petoskey's 2020 sixty-year wind event, the author explores the common spiritual roots of gardeners and gardening wherever they may happen to be.  Dubbed 'Petoskey's spiritual gardener' by HomeLife magazine, author Agria has won awards for feature writing in 2017, 2018, 2019 and 2020 in the Michigan Garden Clubs statewide competition.   Mary Agria will discuss the book and the Day Book tradition at the Little Traverse Historical Museum, 2 PM, October 9.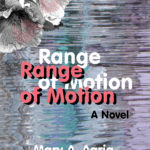 Agria's most recent novel,  RANGE OF MOTION, was launched in Stevens Point, WI in June 2019, followed by a busy tour schedule through October. A two-day event in Petoskey featured author Agria leading tours of Little Traverse Bay landmarks and gardens that inspired her novels—including the best-selling TIME IN A GARDEN in 2006.  Also included were stops at famous Hemingway haunts, an author whose clean, straight-forward prose inspired her own work.    RANGE OF MOTION is the emotional, physical and spiritual journey of long-time Northern Michigan cottager and avid gardener, Maggie Aron as she struggles to confront the 'sciatica of the soul' that can rob life of its vitality and meaning.  "Plants root themselves. Except life doesn't end there. They grow toward one another. sharing space, building the community we call a garden. Plants stretch upward toward the sun. They dance on the wind. We can learn a lot from plants."  Set along the shores of Little Traverse Bay, the novel is a love song to gardening and the unique cottage culture of Northern Michigan. 
Program organizers for book and garden clubs, church groups, senior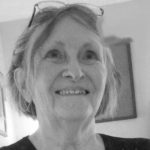 centers, libraries and other venues are encouraged to contact the Agrias to schedule events in their communities. It is also never too late to book an author chat or signing, including online author talks.  Contact the author via her email agriainc@msn.com —Phone and Skype chats are also a fun way to bring the author to your next book club. For upcoming programs or an author visit near you, click on the Events button.
CRITICAL ACCLAIM: Book Critic Joan Baum with the prestigious Dan's Hampton's magazine writes of Agria's novels: "an intelligent, well-written and sharply observed portrayal of the human experience." Says Matthew Daddona, northforkpatch.com, "Inspired language. . .beautiful characters as remarkable and truthful as her setting."