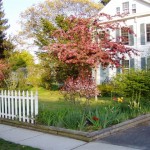 From Michigan to New York to Iowa to the desert Southwest,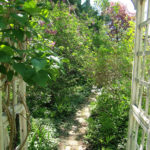 author Mary Agria's gardens have been central part of her life and lifestyle.  New York was an exercise in multi-climate gardening in a single yard: with desert-like conditions on the west-facing side of their 1850s home, a deep shade garden on the east side. Their backyard consisted of pocket gardens, two of which featured ponds—complete with frogs.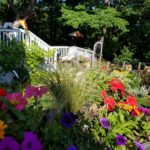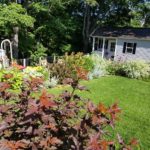 Moving from a cottage in Northern Michigan to a Petoskey home overlooking the Bear River nature preserve meant creating gardens from scratch. Anchor for the gardens was a sculptured concrete patio made to resemble a foundation of some long-lost building, appropriate given the site was once bordered the community's industrial area. A garden along the lot line created a living privacy screen and the author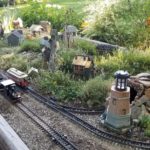 used miniature plants to create the landscape for her husband's large train garden. 
For a video of the garden railroad built by the author's husband, click on this link: Garden Steam Train
Arizona condo living was a tougher challenge. After donating plants for the initially bare communal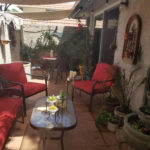 beds around their unit, author Agria developed a lush, shaded patio pot garden with the help of an amazing timed drip system installed by her husband. Birds, butterflies and dragonflies visit the site, attracted by a fish pond installed in a 25-gallon pickle crock.
As Saint Julian of Norwich [1342] once wrote: Be a gardener. Dig a ditch, toil and sweat and turn the earth upside down and seek the deepness and water the plants in time.  [. . .] carry it to God as your true worship.