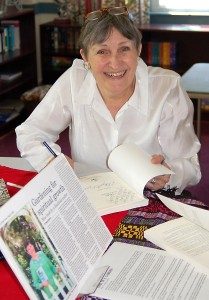 Mary (Metzig) Agria (born 24 March 1941) is an American writer who spent her early career as a journalist and non-fiction writer in the field of rural development and work force issues. Major inspiration—working as a high school and college intern on the same newspaper as Wisconsin writer Edna Ferber. In 'retirement' Mary began writing a series of novels that deal with community building and the issues facing older Americans, including finding meaning in one's senior yearbs, resolving parent-child relationships and facing the ultimate realities of change and loss that are part of the human experience.
In 2006 her novel, Time in a Garden, appeared on best-seller fiction lists all over northern Michigan. She has written seven novels (, 2001; Time in a Garden, 2006; Vox Humana: The Human Voice, 2007; In Transit, 2008; Community of Scholars, 2009;  and Range of Motion, 2019) and numerous non-fiction books, articles and texts. Her 2011 Garden of Eve is a sequel to the best-selling Time in a Garden—together the two kick off an extended LIFE IN THE GARDEN Series set in tiny rural Xenophon, Michigan.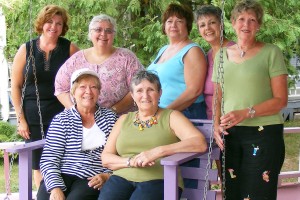 Mary has been in demand as a speaker with book and garden clubs, at libraries and bookstores from Maine to California (here, at center with a book club from Grand Ledge, MI), with master gardener events and in writing workshops. Her gardening and spirituality columns in the Petoskey News-Review won awards in 2017, 2018, 2019 and 2020 for the best feature writing in the statewide Michigan Garden Clubs competition.  A collection of 52 of them appear in her Through the Gardener's Year. In 2021 she published An Intinerant Gardener's Book of Days which takes the reader through a full 365 days of gardening and the gardening life.
THAT'S THE OFFICIAL STUFF. At age 69, celebrated a new decade by losing 50-plus pounds…now literally a new woman. Loves being a wife, mother and grandmother. Is working her way flat-out through "Umpteen Million Things to do Before You Die".  Her latest, a journey of a lifetime to Cambodia and Burma. Favorite authors besides Jane Austen and Edna Ferber, Dr. Zeuss (Oh, the places you'll go…). Loves playing keyboard instruments, weaving and gardening…surprise, surprise. Wants to grow young, not old with her characters.