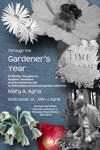 THROUGH THE GARDENER'S YEAR, a collection of 52 of novelist Mary Agria's best columns on gardening and spirituality from the Petoskey News-Review.  Published from 2007-2014, the columns share the author's thoughts on gardens, gardeners and the gardening life.  Professional photographer John J. Agria—also known to fans of Mary's work as her agent and husband—has illustrated THROUGH THE GARDENER'S YEAR with 63 stunning black and white photographs of plants and flowers from around the country, including the author's personal gardens.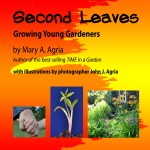 SECOND LEAVES: GROWING YOUNG GARDENERS. A beginning botany book, read-along story book and easy reader introduces children to 12 common perennials, as well as teaching them how plants grow from seeds to seedlings to adult flowering plants. Teacher/Parent Guide included. If a child is stymied by questions about what they want to be when they grow up, SECOND LEAVES teaches them a meaningful answer:  "I don't know, I haven't gotten my second leaves yet". The book is also an effective way of teaching about diversity. SECOND LEAVES has been adopted as a classroom text.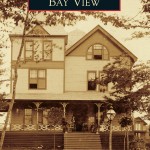 Author Agria and professional photographer Dr. John Agria collaborate on a photo history of this historic Chautauqua on Little Traverse Bay [Arcadia Press, 2014]—BAY VIEW, MICHIGAN:  IMAGES OF AMERICA.